Balcombe stretches from the famous Ouse viaduct in the South up to the forest ridges in the North and West, and is surrounded by beautiful countryside. This village of 600 houses, some very old, lies conveniently on the London to Brighton railway line, and is close to Gatwick airport. With its wide range of facilities, clubs and associations, Balcombe is well managed by a forward thinking Parish Council.
Free Announcements

Residents needed to run this website
Due to other commitments, the current websmaster Andrew Edmondson wants to transfer the control of this website to a group of residents during the next year. This is an opportunity to update and improve the website. The website receives over 300 visitors each week and is an increasingly popular source of information. It is privately hosted and currently receives no funding. Ideally, one of the new wembasters will have some knowledge of the Joomla management system or be willing to learn about it.
If you are interested, please contact Andrew on 01444 811413 or by email.

Victory Hall Film Shows
The Management Committee of the Victory Hall is very pleased to announce that the next film to be screened at the Hall will be the hit mystery drama - "The Girl on the Train".
In the film, a divorcee becomes entangled in a missing person's investigation that promises to send shockwaves throughout her life. The film stars Emily Blunt; Hayley Bennett; Rebecca Ferguson, and Justin Theroux.
This screening will be Friday 9th December starting at 7.30 PM.
The running time will be 112 minutes, with an interval for refreshments mid-way through. The screening will again be provided by the same professional "touring cinema" company, and the layout for the showing will be the usual "cafe style".
Tickets for this film will be £6.00. As usual, these can be purchased in advance from Threads. Demand is expected to be high – so please book early!
Please note that this film is rated 15.
Dates for your Diary!
Our next film will be on Friday 27th January 2017: to be advised
More details from Barry McConway
"Save the Half Moon Balcombe Community Interest Group" is an unincorporated subscription free membership group consisting of Balcombe residents who are committed to see the Half Moon Pub in Balcombe remain as a public house and serving the village.
If you are interested in getting involved please read the attached letter (click on the link below):-
YouTube video of Horsham constituency election hustings Friday 1st May
Each of the 8 candidates replied to these submitted questions
and others from the audience:
Do you think we should have a secular government?

What investment in science is your party planning?
How can we tackle Islamophobia on the one hand and protect women from Sharia law on the other?
Should government ignore the available evidence when making policy?
View the YouTube video here: https://youtu.be/7mSOvR-AKIM
Hosted by West Sussex Humanists and Horsham Skeptics in the Pub
Gatwick second runway public meetings
The Airport Commission's Consultation closed on 3rd February 2015.


Balcombe station nominated for Gardens that Make You Smile
Balcombe Station

in West Sussex isn't a stop for many of Southern Railway's trains but passengers going through appreciate the efforts to make them smile. Photograph Ian Yarham



Summer fete photos
Fracking
Please visit the Balcombe Parish Council website for more details.
Hoops and Signals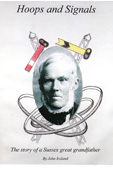 The story of former Balcombe resident Thomas Ireland, signalman and barrel hoop maker.
Written by his great grandson John Ireland, based on his father's journal and diaries.
Click on the image for more information on the publisher website.
Support your local newspaper
You can receive free headlines from the Mid Sussex Times
Just register here
Times are hard for the Times: Use it or lose it
Faster Broadband for Balcombe
Lindifeld now has superfast broadband but BT say they will only install it in Balcombe if there is sufficient demand. Visit their website to register your interest.
In addition, you can also register interest at the WSCC website
Stranger and Stranger
A new book by local resident Robert McMullen
The true story of an unlikely encounter in the
extraordinary life of a young man diagnosed with M.E.
For more details, visit the website.
Child Minding
There is a need for childcare in the village for those parents who work or want to work. Would residents be interested in a web page where they could see if there was anyone who wanted to share care or anyone who had spaces could let people know?
Jane Rhodes
Email an administrator if you would like to make an announcement.
September Bulletin

During June and July there has been a trend towards thefts from motor vehicles and burglaries:
In Pease Pottage vehicles were broken into in Horsham Road, Brighton Road and Parish Lane in order to steal tools and in Parish Lane a commercial premises was entered and cash stolen.

In Staplefield Road, Handcross an office was entered and safe opened and we also received reports of two burglary dwellings, one in Staplefield Lane, Warninglid, the other in Brighton Road, Handcross.
In Cuckfield a lawnmower was stolen from a front garden in Glebe Road and there was an attempted burglary dwelling in Woodhall Close.
Nearby in Ansty, a property in Bolney Road was burgled and items stolen included jewellery and computer equipment.
In Mill Lane, Balcombe a handbag was stolen from a parked vehicle.
We have also seen a continuing trend towards a variety of different frauds. These included persons visiting homes offering to carry out garden work. They insist on payment up front but leave before the work has been completed. There have also been reports of a company telephoning people's homes that state they can block nuisance calls. They are often indicating that residents are already customers of theirs and owe them money. They are very persistent and have been persuading people to give their bank details.Please be aware of delivery scams where you might receive emails or texts regarding an urgent delivery that you need to make payment for or it will be sent back. These texts and emails can purport to come from a variety of well-known delivery agents and as we approach Christmas it is likely we will see more of this. If in any doubt about a delivery you are expecting, please contact the supplier via the original contact details that you hold, NOT those provided on the email or text.

August and September has been fairly quiet, with the incidents reported including thefts and garage breaks:
A generator was stolen from a garden in Borde Hill Lane, Haywards Heath and on two separate occasions garages in Isaacs Lane were broken into and power tools stolen.
A 5 foot tall lead statue was stolen from Staplefield Road, Handcross and in Cuckfield Road, Ansty a car was keyed while parked on a private driveway.
We are continuing to receive reports of the nuisance calls scam and bogus traders offering work on the doorstep. As always, never give out any personal details avoid agreeing to work offered by cold callers. There are a number of products available that will allow you to screen your calls and in some circumstances to block them altogether. Please contact your service provider for more details and advice.
Crafts, gifts and local produce for
sale in the Victory Hall plus Forest Room from
10am to 2pm. Next date 24th September 2016.
Tombola andrefreshments.
Free entry.
New stallholders each month.

Stalls available for £20. Free stalls outside
(Charity Donation to Balcombe Care Group)

Contact Glenda Thomson on
01444 811462