Balcombe stretches from the famous Ouse viaduct in the South up to the forest ridges in the North and West, and is surrounded by beautiful countryside. This village of 600 houses, some very old, lies conveniently on the London to Brighton railway line, and is close to Gatwick airport. With its wide range of facilities, clubs and associations, Balcombe is well managed by a forward thinking Parish Council.
Free Announcements
Residents needed to run this website
Due to other commitments, the current websmaster Andrew Edmondson wants to transfer the control of this website to a group of residents during the next year. This is an opportunity to update and improve the website. The website receives over 300 visitors each week and is an increasingly popular source of information. It is privately hosted and currently receives no funding. Ideally, one of the new wembasters will have some knowledge of the Joomla management system or be willing to learn about it.
If you are interested, please contact Andrew on 01444 811413 or by email.
Beginners Pilates Classes now booking
Friday mornings at Bramble Hall 10:40-11:40.
Starting February 26th.
£90 for 10 classes (26/2/16 – 20/5/16) or £11 per class (drop-in). .
ENROL BY FEBRUARY 12th AND GET YOUR FIRST LESSON FREE!
Contact Karen: 07903 651 356, email: karen@worthpilates.co.uk
www.worthpilates.co.uk

Victory Hall Film Shows
The Management Committee of the Victory Hall is very pleased to announce that the next film to be screened at the Hall will be the hit comedy drama - "The lady in the Van". The film stars Maggie Smith; Alex Jennings, and James Corden.
This screening will be Friday 19th February starting at 7.30 PM.
The running time will be 104 minutes, with an interval for refreshments mid-way through. The screening will again be provided by the same professional "touring cinema" company, and the layout for the showing will be the usual "cafe style".
Tickets for this film will be £6.00. As usual, these can be purchased in advance from Threads. Demand is expected to be high – so please book early!
Please note that this film is rated 12A
Our next film will be on Friday 18th March (to be confirmed)
More details from Barry McConway

Balcombe Repower
Balcombe Arts Trail 2015
I am organising Balcombe Art Trail 2015 the 21st of September till the 1st of October. If you would like to take part please contact me. Tel:-01444-455742 or visit my website www.paulmilton.co.uk
Save Action in Rural Sussex: Petition
For 90 years the Government has supported rural people and communities through providing a financial contribution towards the work of AirS and our sister organisations in the ACRE network (Action with Communities in Rural England). Defra are now considering complete withdrawal of funding.
Our national association ACRE have initiated an online petition to get some momentum behind continued support for the Rural Community Council and ACRE network – that is AirS in Sussex. This is the link :
http://epetitions.direct.gov.uk/petitions/73418
To stop supporting our work is symptomatic of a reluctance to understand rural social issues, especially for the most vulnerable in rural communities.
We urge you to please sign the petition and copy this email on to others on your Parish Council and also organisations within your village asking for their support too.
Once we get 10,000 signatures Defra have to publish a response. When we get to 100,000 signatures it triggers the process for a debate in the House of Commons.
Thank you for your help.
Jeremy Leggett, Chief Executive, 01273 407331

Action in rural Sussex, Sussex House, 212 High Street, Lewes, East Sussex, BN7 2NH
YouTube video of Horsham constituency election hustings Friday 1st May
Each of the 8 candidates replied to these submitted questions
and others from the audience:
Do you think we should have a secular government?

What investment in science is your party planning?
How can we tackle Islamophobia on the one hand and protect women from Sharia law on the other?
Should government ignore the available evidence when making policy?
View the YouTube video here: https://youtu.be/7mSOvR-AKIM
Hosted by West Sussex Humanists and Horsham Skeptics in the Pub
Gatwick second runway public meetings
The Airport Commission's Consultation closed on 3rd February 2015.


Balcombe station nominated for Gardens that Make You Smile
Balcombe Station

in West Sussex isn't a stop for many of Southern Railway's trains but passengers going through appreciate the efforts to make them smile. Photograph Ian Yarham



Pilates classes
I am a Body Control Pilates certified teacher and run small classes to allow individual supervision and support. Enjoy a balanced mind-body workout. Improve posture, core stability. Feel lengthened, toned and more flexible. Increase body awareness. Improve joint health, strength and mobility. Re-educate your body to help prevent damage to joints and avoid injury. Relax and reduce tension.
Classes start in early November on Mondays from 10 to 11am.
£48 for a 6 week block.
Contact Karen Clark on 07903 651 356
Visit http://www.worthpilates.co.uk/ for more information

Summer fete photos
Fracking
Please visit the Balcombe Parish Council website for more details.
Hoops and Signals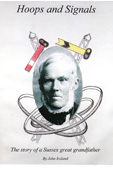 The story of former Balcombe resident Thomas Ireland, signalman and barrel hoop maker.
Written by his great grandson John Ireland, based on his father's journal and diaries.
Click on the image for more information on the publisher website.
Support your local newspaper
You can receive free headlines from the Mid Sussex Times
Just register here
Times are hard for the Times: Use it or lose it
Faster Broadband for Balcombe
Lindifeld now has superfast broadband but BT say they will only install it in Balcombe if there is sufficient demand. Visit their website to register your interest.
In addition, you can also register interest at the WSCC website
Stranger and Stranger
A new book by local resident Robert McMullen
The true story of an unlikely encounter in the
extraordinary life of a young man diagnosed with M.E.
For more details, visit the website.
Watercolour Painting Classes
These will be held in the Victory Hall
from 10am to 12 noon from Wednesday 28th September.
£12 for 2 hours
For more details, ring Esther on 077 3603 5434
Child Minding
There is a need for childcare in the village for those parents who work or want to work. Would residents be interested in a web page where they could see if there was anyone who wanted to share care or anyone who had spaces could let people know?
Jane Rhodes
Email an administrator if you would like to make an announcement.
Neighbourhood Watch Bulletin – October 2015
The trend over the last six weeks has continued to be towards non dwelling burglaries and vehicle related crimes:
During the first week of September, tyres and other items were stolen from a horse box in South Street. In Highlands, a plant pot containing a tree was stolen overnight on 13/09/2015.
A vehicle was stolen from Hatchgate Close overnight on 23/09/2015 and in Church Platt 4 alloy wheels were stolen from a vehicle overnight on 27/0/2015.
During the early hours of 04/10/2015 two safes were stolen from a commercial property in High Street and overnight on 14/10/2015 there was a break in at the Pavilion, Whitemans Green. Items stolen have not yet been confirmed.
Overnight on 28/08/15 a vehicle in Brighton Road, Handcross was damaged during an attempted break in. In the same road there was an attempted robbery at approximately 2000 hours on 18/09/15. Enquiries into this incident are ongoing.
In Pease Pottage a handbag was stolen during a burglary dwelling in The Squires, Pease Pottage on the evening of 12/09/15.
In Haynes Way there was a break in to the building site overnight on 16/09/15. Items stolen included red diesel, roof tiles and copper.
We have received multiple reports of a male in a blue vehicle flagging down cars on the B2110 between Balcombe and Handcross, and asking for money. The male uses many excuses including a pregnant wife in hospital, having run out of fuel and missed a boat crossing. He offers jewellery in exchange for cash but the jewellery is fake. If you see this male, please contact us with details and where possible include his vehicle details.
In Ansty between 26/08/15 – 03/09/15 a swimming pool in Bolney Road was damaged.
During the early hours of 30/09/15 there was a break in to a building site on Cuckfield Road in which a cement mixer and ironmongery were stolen. Further along Cuckfield Road a quantity of items including gardening equipment, roof tiles and tools were stolen from an outbuilding some time between early August and 09/10/15.
In Handcross Road, Staplefield a vehicle was damaged, possibly during an attempted break in at approximately 22:35 on 07/10/15 and between late September and early October a greenhouse was damaged.
If you have any information that will assist us with our enquiries into these incidents, please contact us with details. Similarly, if you notice any suspicious activity please contact us with details. If you suspect a crime is in progress you should dial 999. For all other calls please use 101
PCSO Jayne Milne
Haywards Heath Police Station
Voicemail: 101 ext 21901
E-mail: jayne.milne@sussex.pnn.police.uk
Twitter: @hheath_police
Please do not reply to this email to report crimes or incidents…
Contact us online
or call

101

when it's less urgent than

999
Crafts, gifts and local produce for
sale in the Victory Hall plus Forest Room from
10am to 2pm. Next date 16th April 2016.
Tombola andrefreshments.
Free entry.
New stallholders each month.

Stalls available for £20. Free stalls outside
(Charity Donation to be announced later)

Contact Glenda Thomson on
01444 811462